Why is social media for Businesses?
Facebook, Instagram, Twitter and LinkedIn are some of the most popular & trending social media platforms from a business perspective. Social media marketing is the use of various social media platforms to sell your products or services. Customers are already on social media, making it easier for businesses to reap the benefits of social media through various techniques.
Businesses have resisted embracing social media from its beginnings, either due to a fear of the unknown or an underestimation of its influence on their bottom line. However, with worldwide visibility through social media, it's impossible to argue that you shouldn't use it as a dependable marketing tool for your firm.
For brands, social media is no longer a choice, but rather it's become a must. Some firms, particularly small ones, may view social media as a side dish to their primary marketing plans. However, nowadays social media marketing has become just as vital as conventional marketing if not even more. With billions of people currently using one or more social platforms, you don't want to miss out & extract the most out of it!!
Is it really necessary for your brand to be present on social media just because almost half of the world's population is? Yes, of course, it is! It's not simply about showing up; simply being there socially isn't enough; you have to make the most of it.
Now the question arises what are the advantages of using social media provide for your company? It's much more than just getting your company in front of more people.
Here are some reasons why having a strong Social Media presence is necessary for your business:
It's a great way to spot real-time industry trends.
Social media is one of the few places where you can view your target audience's social activity in real-time. Analyzing the user's activity can help you understand & quickly catch up on industry trends. Hashtags in shared material, for example, would offer you an excellent idea of what's going on in your audience's social network.
Considering the 'open' and immediate aspect of social media, this is where we can see the actions, interests, and views of both companies and customers. It's exposed for everyone to see making it easier to understand which brand is being talked about, performing well; what's causing a stir among the audience.
The much-needed Search Engine Optimization
As a digital marketer, you must be aware of the importance of keeping your websites and pages SEO optimized (for your good). You must also be aware that SEO is a dynamic entity & it requires a lot of creativity & effort.
So, you're continuously tailoring your pages to the most recent SEO trend, aren't you? That is if you want your material to be perceived as relevant. So, guess what? Social networking can help your content rank higher in relevant searches.
With the right strategy, you can improve your Google and other search engine rankings with the correct social media marketing plan. Your social media health has an impact on your SEO, social media postings that bring visitors to your website or blog will increase the visibility of your business.
A high-performing piece of content (with a high number of likes, shares, and comments) on your social media is beneficial to your site visitors. It brings a lot of social media referral traffic that can be increased by employing the proper scheduling strategy.
You can keep a tab on your competitors move
Most people are unaware of the tremendous potential that social media has for a company. It is impossible to overestimate the importance of being able to observe when, how, and what a rival is doing on social media. What are the rival brands promoting? How much attention are they getting? Are they running advertisements, and if so, what is their style? You can tell the type of approach your competitors employ by keeping a close eye on their actions. And social media has made it as simple as possible to maintain tabs on them. Competitor analysis exposes the ways in which your competitors outperform you.
Assume your competitors' Instagram engagement is excellent while yours is quite bland. You might want to look at how they're doing it and get some ideas from them. Alternatively, identify their flaws and use what you've learned to improve your plan. There are various competitor analysis tools available to help you keep track of how you compare to your competition so you don't fall behind.
Win the hearts & minds of your customers
As long as you're active and have a great content plan in place, social media assures that your audience will never forget you. An average person will open social media at least a couple of times during the day, and when they come across your post, you remain fresh in their memory, increasing the chances of them purchasing your products or services.
It's completely free!
This is one of the most important advantages of social media for any company. While other forms of digital advertising like Google Ads & SEM might cost a lot of money, social media is completely free. With the use of good content and images, you can easily attract more followers. This strategy necessitates a consistent plan as well as excellent material. To make things easier, you can always utilize a scheduling program to ensure that you never miss a post.
Increased chances of going viral
Ultimately, with social media, popularity is just a post away, all you need is 1 post to go viral all over the Internet. So keep trying to think of something unique that will resonate with your company and your chances of becoming viral are increased. This implies that more people will be aware of you, and more people will be interested in your product or service, like they say any marketing is good marketing so make the most of it!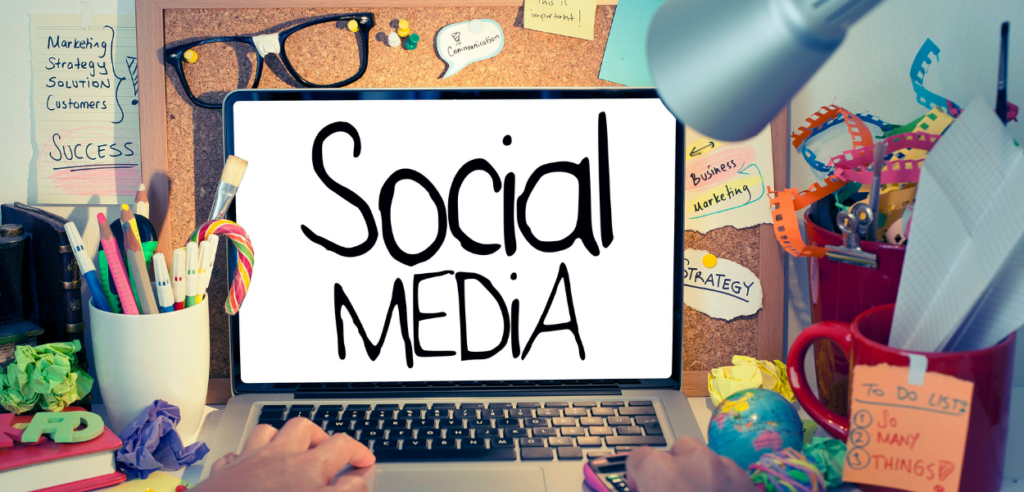 Gives your brand a human touch
Handheld devices dominate the globe, thus it is the core human connection that may distinguish your brand from your competitors. This human touch is provided by introducing customers to your company's owners and managers, making them feel connected with your brand which results in a high level of authenticity & interaction.
This builds trust which is the driving force that assures brand receptivity and paves the way for the establishment of new enterprises. As a result, businesses may inform their consumers about the brand values and significant individuals behind the company and directly connect them to the customers.
Building a reputation as a thought leader
We all want to be associated with a brand that is a thoughtful leader & innovator, don't we? Well, Customers are seeking businesses, but they are also looking for insights and useful information. As a result, several social media platforms have created tools that allow businesses to promote their ideas to customers in a more creative way (eg: Instagram reels).
One of the primary advantages of social media for business is the ability to share ideas, which aids in the building of communities. As a result, businesses may leverage the power of social media to share their ideas with the rest of the globe. Furthermore, these thoughts generate consumer inquiries and keep them linked with your company.
Collaborations with influencers
Many consumers make purchase decisions by taking advantage of the discounts based on recommendations from friends, coworkers, or family members. As a result, companies may utilize social media to interact with influencers who can persuade their followers to use their products & services.
This word-of-mouth marketing from famous social media influencers assists firms in capturing the attention of enormous audiences, better known as influencer marketing. As a result, marketers collaborate with influencers who post "how-to" and "unboxing" tutorials and videos of their products. This influencer material provides high double click-through rates and enhances sales conversion rates.
Communicating during a crisis
It is not uncommon for firms to have an instant crisis. It might become a short-term or long-term disaster in any business. So can you use social media to address the crisis in your organization? Well, of course, using social media to interact with clients during a crisis is one of the most effective methods.
Social media marketing assists organizations in breaking the managerial silence. Top leaders with specialized social media profiles can inform the audience about crisis situations & bring the chaos in control. Pre-planned social media postings or advertisements aid in the management of corporate communications during a crisis and prepare them for any unfortunate situations.
Customer support and customer service
Individuals anticipate that businesses should be accessible via online media and to search out their social records for client support – and almost 50% of web-based media clients need brands to respond to them within three hours. Social customer service can coexist with the more traditional customer service if the right tools are in place to provide an overall better user experience.
The rise of social media in recent years has demonstrated that these new communication platforms should be a major marketing component for your brand.
Let's take a peek ahead to 2022 and see how social media usage has changed over prior years. Keep these social media statistics in mind as you develop your social media strategy for this amazing year!
Social media is currently used by more than half of the world's population.
There are presently 4.88 billion internet users worldwide, accounting for over 62 percent of the world's population.
Over the last year, the number of active social media users climbed by more than 400 million, a 9.9% raise, bringing the total to 4.55 billion.
More than two-thirds of the global population has access to smartphones, totaling 5.29 billion unique mobile users.
By the end of September 2021, TikTok surpassed 1 billion monthly active users. This places the platform eighth on the list of social media networks with a BILLION active users.
The average amount of time spent on social media by a regular user each day is 2 hours and 27 minutes.
Six out of ten individuals on the earth have a social media account.
Short-form videos like reels are seen as the most successful sort of social media content by 85 percent of marketers.
Almost 45 percent of internet users conduct product research on social media.
Social media is much more than just a medium for sharing content. While consistency and relevance of your material are critical, keep an eye on the competition. Using the best social media marketing tools must be accompanied by a thorough understanding of their advantages. And take full use of your brand's social media promotion.
Want to start Social Media marketing for your brand but don't have the right tools & knowledge, to begin with?
Then connect with AdsCult & let our amazing experts help you out in your journey of building an Amazing social presence. Give us a call to know more & start your journey today!